By Village Business, we mean such businesses which can be started in rural areas to earn. Yes, as we all know that there is very less population in rural areas as compared to cities. That's why everyone can not do business here like in cities. Apart from this, it is also a fact that the spending capacity of most of the people living in rural areas is much less than the people living in the city.
And people living in rural areas prefer to spend only on some essential things or services, due to which there are limited business options. Although there is no doubt that many businesses related to agriculture can be done in rural India. But the entrepreneur needs to supply his product to the cities only.
That is to say that some businesses are like this. If it is beneficial to operate from rural areas, then many businesses are beneficial from the point of view of earning only in the city. That's why today in this article we are giving a list of some such Village Businesses that can also be beneficial to start from rural areas.
Talking about business ideas related to villages is also necessary because most of the youth have to leave their village, home, world, family everything and go to work in the city to earn a living. But when they do not get the job of their choice, then they are compelled to do some work. Due to this, they remember their village again and again and search on the internet about some village businesses which can be started easily from villages also.
1. Grocery Store a must required Village Business
This Village Business is also very popular in rural areas because the business of food distributors i.e. grocery store is very beneficial in rural areas. Because it has often been seen that such people whose grocery comes but they are not able to take their grocery due to living outside the village. Grocery Store sell such grocery's to the customers at slightly higher prices, from which they earn a lot.
Apart from this, grocery store also keep groceries in their shop, so that when people come to get grocery's, they also take items used in the house like tea leaves, pulses, biscuits, etc. But only one gets the license grocery dealer in a certain area, so first of all the entrepreneur needs to get information about this from the food department of the state.
2. Television and Electronic Equipment Repair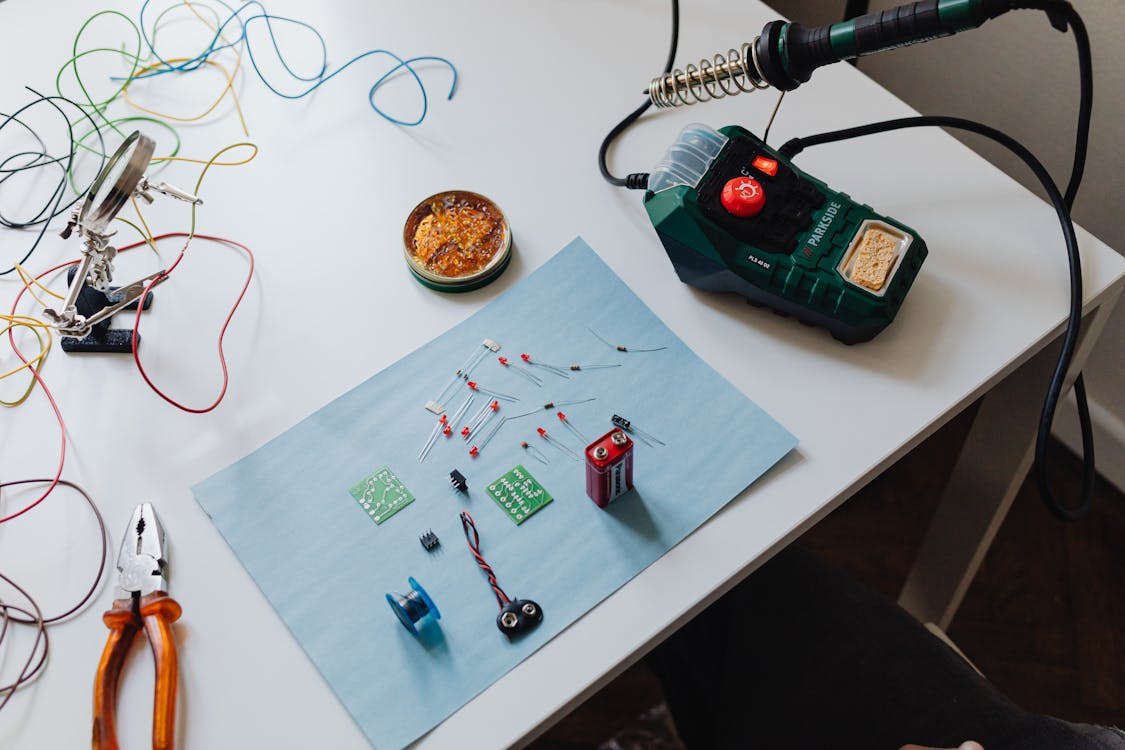 If we talk about television, at present, whether it is a city or a village, every house has a television, so this work of fixing television can be started anywhere. But the fact in this is that this business can also be started only by the person who has the work of repairing television and electronic equipment.
If the person who wants to start this type of village business does not find it useful, then he can work in such a repairing shop for the first few months or he can complete a short term course related to it. But keep in mind that this Village Business Idea is only for those who know this work well and they get experience in doing this work.
3. Business of photocopying and lamination
Photocopy bookbinding and lamination are also required in rural areas as children studying in school are also here, people have to work here in block tehsil, etc. However, if this type of shop is near a bank, school, government office, etc., then it is very beneficial. If it is not so then the entrepreneur should take some decision only after assessing the demand of the local people.
Lamination Paper Manufacturing business 
4. Barber's shop
The option of a barbershop in Village Business Idea can also be very good as a survival business. But not everyone can start this type of business because it requires a special skill to start it. That is, whoever wants to do this business from rural areas, should be well versed in cutting hair and shaving based on the latest style.
Since there are only a limited number of customers in rural areas, it can be harmful to do this work by hiring a person. Most of the businesses related to rural areas are like this. Under which the entrepreneur has to do the work to be done himself, only then he can reach a position of earning profit. The business of a barbershop is also such that the entrepreneur himself has to become a barber and cut the beard and hair of the customers.
5. Meat chicken shop
Since people in rural areas do more physical work, they are also very fond of eating and drinking and their body also needs meat and poultry. That is to say, one thing is common among the people living in rural areas that even if they spend on clothes or other luxuries, they must spend on food like meat and chicken meat.
This is the reason that meat chicken shops run very well even in rural areas. If you also want to start a business in a rural area with less investment, then this Village Business can be very beneficial from the point of view of earning. But in this, the entrepreneur should have a habit of living in a little bit of dirt and stink because no matter how clean you keep in such shops. But a little bit of dirt and smell does come on.
6. fruit and vegetable shop
Fruits and vegetables are needed by every human being in their daily life, so fruits and vegetables don't need to be sold only in the city. Rather, the people living in rural areas also buy fruits and vegetables in good quantity. This purchase gets further increased at various events and events. So if you are serious about doing any village business then you can also earn money by starting a fruit and vegetable shop.
7. Mobile Recharge & Repairing Shop:
A direct example of how much the utility of mobile has increased in human life, we can also see and feel well in our homes, and neighborhoods. And if we talk about today's time, there are as many mobile phones available with the number of adult members in a house. That's because mobile phones have become an integral part of human life at present. Since mobile phones are also available to people living in rural India, it can be beneficial to start a mobile recharge and repairing business there.
8. Goat and Poultry Farming:
Animal husbandry is a common business in the list of Village Businesses. Goat rearing and chickens are mainly used for meat production, although humans have been hunting wild animals for meat since ancient times. But since at present, due to the ever-decreasing population of wild animals, strict rules have become law to keep it safe.
Therefore, now man rears goats and poultry to meet the needs of meat, meat. Talking about rural areas, farmers do this business as a sole subsidiary business along with agriculture. So that they can earn some income by selling them.
9. Dairy Village Business 
Since animal husbandry is also mainly done in rural areas, the milk-giving animals like cows, buffalo, etc. are mainly made part of it. Therefore, if you are thinking of starting a village business ie from a village, then the dairy business can also be suitable. In this, the entrepreneur will have to take milk from the milk-producing farmers and supply it to the people living in the nearby areas, and from the remaining milk to manufacture other items like curd, paneer, ghee, etc. to be sold in the dairy.
10. Soapmaking
Training in soap making can also be taken from any government institute like NSIC or Khadi Village Industries Center. Entrepreneurs cannot start this business without acquiring skills. It is meant to say that to take this village business to the surface, the entrepreneur needs to learn the skill of making soap.
An entrepreneur can easily learn soap-making by taking a few weeks of training. Since soap is used in both urban and rural areas, the entrepreneur can sell the produced product in the village also. And can supply the remaining products to the cities. You can read this article to know the complete process of making soap.
11. Jaggery making:
This jaggery production can be started in rural areas where sugarcane is mostly cultivated. Because sugarcane juice is required to make jaggery, although jaggery is also made from pomegranate juice, palm juice, etc. But jaggery made from sugarcane juice is more in vogue, so if you also want to start this business from a rural area.
So select an area where sugarcane is cultivated in proper quantity so that the raw material for this business can be found in suitable quantity and at cheap prices. As far as the method of making jaggery is concerned. Short-term courses are provided by various Government of India Undertakings like National Small Industries Corporation and Khadi Village Industries. An entrepreneur can also take their information from their nearest District Industries Center. Click here for more information on making jaggery.
12. Tractor rental in villages
As we all know very well that agriculture is the main occupation of most the people living in rural areas. The land is also more or less with everyone, but not everyone has enough money to buy a tractor for plowing their fields.
Although it is almost impossible to do plowing by tractor in the villages of hilly areas, that is because one way there is no road access to the fields. And even if it happens anywhere, the fields are terraced, so it is difficult to take a tractor from one field to another. But in the plains rural areas, this village business can be very beneficial. Entrepreneurs can make such people his customers who have land but do not have tractors.
13. Stationery shop
It can also be beneficial to implement this Village Business Idea in the local market of the villages. Or it can be beneficial to start it near any school, college, or university. Although this business is such a business that once it is frozen, it never slows down because it is a business related to the field of education. And man can cut down on food, drink, living, tolerance, dress, etc., but he cannot do it even if he wants to cut down on health and education. Therefore, if you are also serious about starting a stationery business, then definitely read our article written on it.
14 Tea Shop a Traditional Village Business
As we all know that when talking about rural areas, every village or three or four villages together has a local market. From where the people living in that area buy the items used in their daily life. Tea pakoras can be traded in one such local market.
Since tea is a major beverage in India, it sells a lot all over India. However, if the entrepreneur wants, he can sell not only pakoras with tea but also different types of biscuits to his customers. Complete information about the process of starting a tea shop is given in this article. Generally, it can be beneficial to start this Village Business in a place where buses stop, or there is more movement of rural people.
15. Pickle making business:
Since the ingredients used for making pickles are easily available in rural areas at low prices. That is because the entire raw material used in making pickles is based on agriculture. That is, you need mango, amla, carrot, lemon, green chili, etc. to make a pickle.
Apart from this, spices like cumin, garlic, ginger, turmeric, salt, chili, etc. are all easily available in some rural areas. However, even after adopting this Village Business Idea, the entrepreneur will have to supply his products to the cities only.
16. Tailoring can be a good Village Business
Talking about tailor's work, this Village Business is included in the list of a traditional businesses. But tailor i.e. sewing clothes can be done by only those men or women who know the work of sewing clothes skillfully. To start the tailor work included in this list of Village Business, it is very important to have sewing work.
Although at present people in rural areas also like to wear and buy readymade garments. But despite this, many people are concerned about their fitting and in rural areas, there is a possibility of getting a lot of work for the tailor in the events like school dress, weddings etc.
According to one data, women are more fond of sewing new clothes than men in rural areas. Therefore, a tailor who knows how to sew clothes for both ladies and gents can earn by doing this village business in rural areas as well.
17. clothing store
Cloth is one of the most important necessities of man, so the business of clothing shop can also be done in rural areas. But the point to be noted here is that urban people wear clothes of different fashion and village people wear clothes of a different fashion. Therefore, the entrepreneur should keep the same clothes in his shop for sale which is worn in the village.
To buy clothes for the clothes shop, the entrepreneur can visit any cheap and famous market and shop at a time. Keep in mind that the entrepreneur will be able to buy good clothes at as cheap a price as possible. Equally, he will also earn profit from this Village Business.
18. Hardware Store
The need for this material is everywhere, whether it is urban or rural, so people who are thinking of doing village business can think of opening a hardware shop.
Since an entrepreneur running a hardware shop, nails, nuts, bolts, building materials, utensils, paints, tools, and implements used in agriculture, materials used in cleaning, materials used in plumbing Selling materials, and other household items. The products which are in demand both in the city and in the village areas. Therefore earning in rural areas is possible even by doing this type of business.
19. Flour Mill a Lucrative Village Business 
Where there used to be a water mill in the rural areas, there are currently flour mills running on electricity or fuel. It is meant to say that this business called flour mill is therefore kept in the category of Village Business.
Because often we see that the yield of wheat is high in rural areas, so the people living here instead of buying flour from the market. They like to grind wheat in a flour mill. Therefore, any interested person can start a flour mill business in rural areas. The special thing about this business is that it can be started easily ata  very low cost.
20. Spice Making Business
It is said that Indian people are very enthusiastic about food, so starting Spice Business here has always proved beneficial. In our country India, whether it is a festival, an event, a party, a wedding anniversary, etc., there is a special arrangement of food for the guests. And Indian food is recognized only by the aroma of the spices here. Since India is a large country based on population, there can be a lot of differences in states like mines, paan, living, tolerance, etc. based on states. But it is generally seen that even though the names of the food items are different in different states of India, spices are used in making them.
This is probably because spices have been produced in India since ancient times due to their health benefits. This is the reason why our country India is also called the home of spices. There are many spices here that have good yield, coriander, chili, turmeric, cumin, mint, garlic, etc. are the main ones. Therefore, here is an area where spices are good, the spice industry or Spice Business can be started easily.
FAQ on Village Business
Q. What should be done before starting any business in rural area?
Ans. Business done in rural areas is called Village Business, and to encourage them, many schemes are run by the Central and State Governments. So the aspiring entrepreneur should first try to find out what kind of businesses the government is promoting in that particular area. And to do what kind of work the subsidy is providing loans or other assistance.
Q. Why have you not included these home-sitting businesses in the list of Village Business Ideas?
Ans. That's because we have talked about these businesses in the list of online businesses, list of computer businesses, etc. If you want to know about them, you can use the search button on our website to find these articles.
Q. Is there any business that can be started even from home from the village?
Ans. If the availability of internet network till your village, and you have some smartphone, computer, laptop etc. So there are many such business or work, which you can start from home even from the village. These include blogging, working as a freelancer, creating a YouTube channel, giving online coaching to students, and many more.
Q. Which business should be started in the village?
Ans. Any village business can be started in the village which is in demand at the local level. To start a business in the village in the manufacturing sector, apart from the local demand, one must also pay attention to the availability of raw materials, transportation facilities, established market etc.